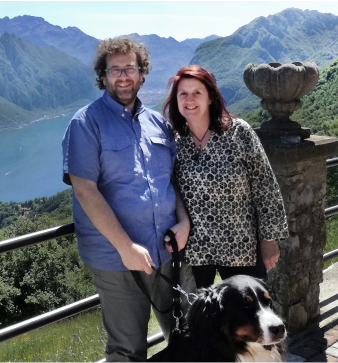 Alberto and Cristina
Sapori di Montagna is an artisan company, young and dynamic, attached to traditions but innovative and environmentally conscious.

It was established in 1997 in Val Masino (SO) in the heart of the Valtellina and Alps, in a specialised, small workshop, where we started the production of dried and preserved mushrooms.

A few years later, we built a new factory in Morbegno, CE certified for the production of preserved meat and fish that allowed us to develop new product lines: sauces, gravies, game sauces and catering specialities.

In 2006, while enlarging the factory, we installed a system for the production of jams and marmalades that cooks fruits and vegetables in a modified atmosphere at 65°, retaining the original organoleptic properties.

The innovations of the structures has not replaced the manual skills of our workers who continue to choose and select the raw materials and prepare vegetable preserves.

Thanks to the dynamism and resources of our company we are able to meet customers' requirements starting from specialized gastronomies to production for 3rd parties.

The procurement of the raw materials directly from the producers, the accurate checking during production, the strict adherence to HACCP principles, combine to guarantee the continual sanitary, safety and quality of our products, keeping taste and scent intact till served at your tables.

Sapori di Montagna has been certified by I.F.S (International Food Standard) since 2015. Compliance to this standard ensures the best quality and safety of our products